HOME
About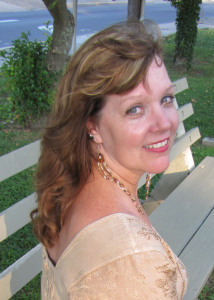 BIO
Diane Sahms-Guarnieri is a native Philadelphian, having grown up in Roxborough and Manayunk (Northwest);
lived a short time in South Philly, and has spent the majority of her life on the borderline of Lawndale and Burholme
(Northeast). Her first full-length poetry book, Images of Being, was published in October, 2011 by Stone Garden Publishing.
and is available at Amazon
Her second full-length poetry book, Light's Battered Edge, was published in October, 2015 by Anaphora Literary Press
and is available at Amazon
Her third full-length poetry book, Night Sweat, was published in January, 2016 by Red Dashboard Press
and is available at Amazon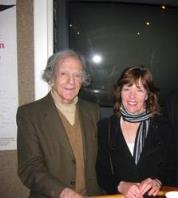 Diane is currently a Contributing Editor of North of Oxford(2016 - presently).
She has served as Poetry Editor of The Fox Chase Review (2008 - 2015);
co-hosted The Fox Chase Reading Series at Ryerss Museum and Library (2008 - 2015);
served as Poet in Residence at Ryerss Museum & Library (2013 - 2015);
founded and runs The Tenth Muse Poetry Workshop (2012 - present);
founded and hosted The Center City Poets Workshop (2006 - 2011);
founded and hosted The Fox Chase Reading Series "2nd Tuesdays Poetry Open Mic" (2009-2011);
and served on the Editorial Board of the Philadelphia Stories magazine (2006-2008).

Her poetry has been published in The Southern Ocean Review; Wilderness House Literary Review;
Autumn Sky Poetry; Many Mountains Moving;The Philadelphia Inquirer;The Fox Chase Review; Folio;
Philadelphia Stories;Mid-West Cultural Council;The Mad Poets Review;Limited Editions;The Camel Saloon;
The Northern Liberties Review;The Mascara Review;The New Purlieu Review;Dead Snakes;Blast Furnace; RiverLit,
The Levittown Leader; Oddball Magazine;Blue Collar Review; Pennsylvania Literary Journal;Plum Tree Tavern;
& Partisan Press's 2015 winner of the Working People's Poetry Competition for the poem "Absence."

More poems published at Indiana Voice Journal; The New Verse News; Eleventh Transmission;
Transcendent Zero Press,Selfhood: Varieties of Experience - an anthology for the faint of heart.
In 2017 - 34th Parallel Magazine-Issue 43 (Print); Blue Heron Review; & JONAH Magazine
Coming September 2017, poems will appear in The Ibis Head Review and at Canary.

Diane has performed her poetry at venues along the east coast of the United States
from Boston, Massachusetts to Richmond, Virgina
She is a graduate of East Stroudsburg University (B.S.), and has performed post graduate work
at Holy Family University (HFU),which led to an English Secondary Education Teaching Certification.
While completing post-graduate work at HFU, she also attended & completed courses at Community College
of Philadelphia (CCP), volunteering at both institutions as student editor for their respective
literary magazines, Folio & Limited Editions. She has taught high school English
and currently works as a Purchasing Agent by day
and poet by night, hence the title of her third book, Night Sweat.
INTERVIEWS
April 2016 - Lynn Fanok(LF) interviews Diane Sahms–Guarnieri(DSG)
This can be read at The Interview Room
A 2013 Interview: Ten Questions for Diane Sahms–Guarnieri can be read at The Fox Chase Review.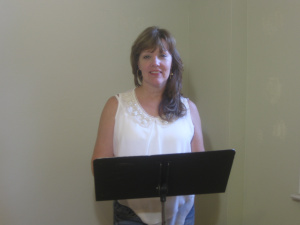 AWARDS
Receipent of Commonwealth of Pennsylvania /
The House of Reprsenatiatives Citation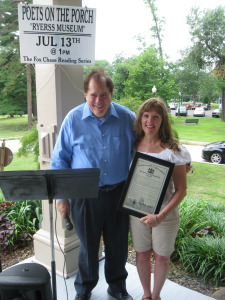 Awarded on July 13,2014 for over a decade of community volunteerism
in the promotion of the art of poetry in Philadelphia. See article
AEVentures Foundation GRANT
AEVentures Foundation Grant for Poetry
unanimously awarded by "The Board" in May 2013
More at Word Press.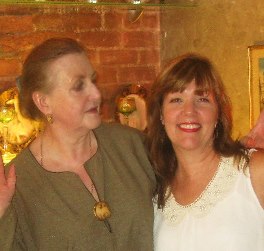 YOUTUBES
YouTube of Diane Sahms-Guarnieri reading in Princton at the Café Improv
March 25th,2017:
• Choruses of Crickets Sing Me • Listening • Vivaldi's violins • Dark-eyed Juncos • Pennsylvania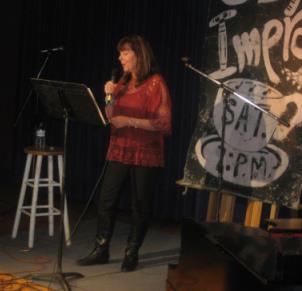 YouTube of Diane Sahms-Guarnieri reading in Princton at the Café Improv
January 24,2015:
• Modern Day Flossie
• Delaware River
• Detached from the body of wind
• The Singing Butler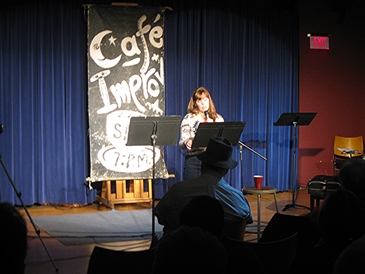 YouTube of Diane Sahms-Guarnieri reading in Princton at the Café Improv on the 16th Anniversary of her father's death
April 27, 2013:
• Machines, Machines, Monstrous Machines
• Daisy
• Winds of Injustice
• My Lover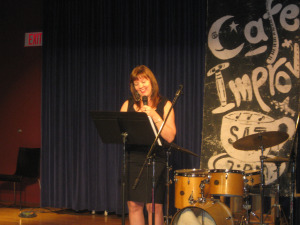 YouTube of Diane Sahms-Guarnieri reading at the Pen and Pencil Club
on March 20, 2016:
from Night Sweat
• Faces of the Moon over Philadelphia
• Laundry
• Aluminum
• Under the Nights Forever Falling
• Two Stones
from Light's Battered Edge
• Absence
• Repeatedly waking to music
• Pennsylvania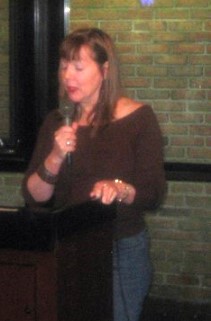 You can visit her at her BLOG
Listed at Poets & Writers
HOME