HOME
About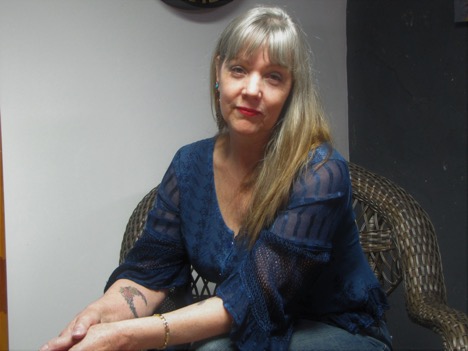 HOT OFF THE PRESS: Alien Buddha's Featured Artist for September 2023
Click interview here

Spreading the love of poetry

Click May 4th, 2023 article here
BIOGRAPHY
Diane Sahms-Guarnieri is a native Philadelphian, having grown up in Roxborough & Manayunk (Northwest);
lived a short time in South Philly; and has spent the majority of her life living in Lawndale (Northeast).
She has performed her poetry at venues along the east coast of the United States from Boston, Massachusetts
to Richmond, Virginia and west to Pittsburgh, Pennsylvania.

EDUCATION/WORK EXPERIENCE
Diane is a graduate of East Stroudsburg University (B.S.) GPA 3.57.
From 1982-86 she worked as a Contract Specialist.
In the late 80s, into the late 90s she was a stay at home mom with her three children.
In 1999, she enrolled in graduate work at Holy Family University (HFU) GPA 4.0,
which led to an English Secondary Education Teaching Certification.
While completing post-graduate work at HFU, she also attended & completed courses at Community College
of Philadelphia (CCP) GPA 4.0, while substitute teaching for the Philadelphia School District.
Once certified she taught high school English/Poetry at Council Rock (North & South) & at Cheltenham High Schools.
From March 2008-present, she has worked as a Acquisition Specialist (pre & post-award & contract closeouts).

BOOKS
Her first full-length poetry book, Images of Being, was published in October, 2011 by Stone Garden Publishing
and is available at Amazon
Her second full-length poetry book, Light's Battered Edge, was published in October, 2015 by Anaphora Literary Press
and is available at Amazon
Her third full-length poetry book, Night Sweat, was published in January, 2016 by Red Dashboard Press
and is available at Amazon
Her fourth full-length poetry book, The Handheld Mirror of the Mind, published in July, 2018 by Kelsay Press
and is available at Amazon
Her fifth publication, a chapbook, COVID-19 2020 A Poetic Journal published in August, 2021 by Moonstone Press
and is available at Moonstone
Her sixth publication, a full-length poetry book, City of Shadow & Light (Philadelphia) published in November, 2022
by Alien Buddha Press and is available at Amazon
Her seventh publication, a chapbook, Luna, the lesser light published in August, 2023 by Moonstone Press
and is available at Moonstone
Reviews, of above poetry books
Northeast Times
The Philadelphia Inquirer
Northeast Times
Montgomery Media
Boston Area Small Press and Poetry Scene
PUBLICATIONS, print &/or online
Poems
North American Review - University of Iowa; Brushfire Literature & Arts Journal - University of Nevada;
Chiron Review; Sequestrum Journal of Literature & Arts - Iowa; Valley Voices: A Literary Review - University of Mississippi.
The New Verse News; The Philadelphia Inquirer;Pennsylvania Literary Journal; Folio; The Fox Chase Review;
Many Mountains Moving - Colorado; Philadelphia Stories; Indiana Voice Journal; Mid-West Cultural Council;
The Mad Poets Review; Limited Editions - CCP; The Camel Saloon; The Northern Liberties Review; The Mascara Review;
Dead Snakes; Blast Furnace; Oddball Magazine - Boston, MA; RiverLit - Spokane, WA; The Levittown Leader;
Blue Collar Review - Norfolk, VA; Plum Tree Tavern; Autumn Sky Poetry;Wilderness House Literary Review - Boston, MA;
Eleventh Transmission - Canada; 34th Parallel Magazine - Paris; The A3 Review - UK; The Southern Ocean Review;
The Blue Heron Review; Canary; The Ibis Head Review; JONAH Magazine;Picking Up Glitter; The Write Launch; The Moving Force;
Coffin Bell; Coronavirus Chronicles; Yellow Mama Magazine; Eclectica Magazine-Runner Up Prize; The Northern Virginia Review
Tiny Seed Literary Journal, Pollinator Project; Nine Cloud Journal; The New Purlieu Review;The Pangolin Review - UK;
Poetry and Covid - UK, University of Plymouth and Nottingham Trent University; The Stray Branch; Poetry X Hunger;
Passager Pandemic Diaries; POEMS-FOR-ALL; Partisan Press - Winner of Working People's Poetry Competition for "Absence;"
The Green Shoe Sanctuary; Home Planet News; Alien Buddha Zine No. 50 & Tiny Seed Literary Journal, Wildflower Project.
Poems forthcoming from Wingless Dreamer Press: Echoes of T.S. Eliot & Arlington Literary Journal.

Anthologies
Poems forthcoming from Tiny Seed Literary Journal's Poetry of the Wildflowers Anthology, 2023
& Alien Buddha Press: The Alien Buddha Gets a REAL Job Anthology, 2023.
Moonstone Press. HOPE 2022 & 2021 Featured Anthology.
Train River Anthology.
Wingless Dreamer Press. Fruits of Our Quarantine, an anthology written during COVID-19.
Transcendent Zero Press. Selfhood: Varieties of Experience-an anthology for the faint of heart.
Philadelphia Stories Inc. The Best of Philadelphia Stories.
Moonstone Press. Poetry Ink & Philadelphia Says Women Are Voting.
Genre:Urban Arts Press. Genre: Urban Arts No. 9: Urban Arts Signature.
Poetry Book Reviews, written by Diane, a sampling
The Damages of Morning by Philadelphia Poet, J.C. Todd
Amber Necklace from Gdansk by Linda Name-Foster
Strike Sparks: Selected Poems, 1980-2002 by Sharon Olds
The Niagara River by Kay Ryan For more book reviews go to North of Oxford
COMMUNITY (Volunteer) SERVICE, Philadelphia
Poetry Editor
Diane is currently Poetry Editor of North of Oxford (2016 - presently).
& currently in 2023 cohosts Second Wednesdays' Reading Series & open mic at the Northeast Regional Library.
She has served as Poetry Editor of The Fox Chase Review (2009-15);
served on the Editorial Board of the Philadelphia Stories magazine (2006-08); and
served as Student Editor for Limited Editions at Community College of Philadelphia (2000-03)
& Folio at Holy Family University (2000).
Cohost, Host, Assistant & Other
Cohosted The Fox Chase Reading Series at Three Sisters Corner Cafe (2008-11) and at
Ryerss Museum and Library (2011-15);
Hosted The Fox Chase Reading Series 2nd Tuesdays Poetry Open Mic (2009-11);
Hosted Poets at Pennypack at Pennypack Environmental & Nature Center (2014);
Hosted Poets in the Park at Lions Park (2010, 2011, & 2014);
Hosted The Center City Poets Workshop at the former Borders Bookstore (2006-11);
Assisted with Poets on the Porch (2010-15);
Created, published, and distributed "the broadside series" (2013-15).
Poet in Residence
Served as Poet in Residence at Ryerss Museum & Library (2013-15).
Workshop Leader
Delaware & Pennsylvania:Tenth Muse Poetry Workshop Leader (2012-15).
INTERVIEWS
2019, Contributor Spotlight
Sequestrum Journal of Literature & Art
2018, Television Interview
YouTube Conducted by Marilyn Klimcho on the Poets' Pause program broadcast on BCTV.
2018, Featured Author
The Blue Heron Speaks
2016, Interview by Lynn Fanok
The Interview Room
2013, Interview by The Fox Chase Review: Ten Questions
The Fox Chase Review
AWARDS
Partisan Press Winner of the Working People's Poetry Competition for poem, Absence, 2015.
Recipient of Commonwealth of Pennsylvania/The House of Representatives Citation, 2014.
Community College of Philadelphia - Two Time Winner of Judith Stark's Poetry Competition.
Philadelphia Writer's Conference - Second Place in the Poetry Competition for poem, "Lily."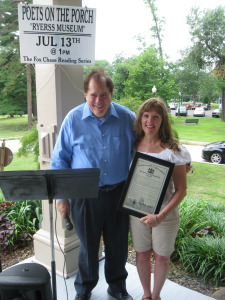 Awarded for over a decade of community volunteerism in the promotion of the art of poetry in Philadelphia. See article
AEVentures Foundation Grant for Poetry, 2013.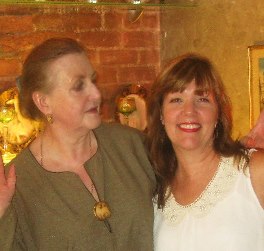 YOUTUBES
YouTubePoetry@Pen and Pencil
June 5, 2022:
Banshee of the Broken
Cold Moon Speaks
Danny
There's Tony
Winter Solstice
Summer Solstice
Secret Languages
Doggone Blues
My Lover's Blues
Banishment of Blues
Dem Dare Blues

YouTube Princeton, NJ at Café Improv
March 26th, 2022:
Thorns & Roses, a baseball poem
Mercury Grand Marquis
Something Apple for mom
Vaporous
Hobo's wandering wind song
Shoes
Secret Languages
Two poems from COVID-19 2020 A Poetic Journal
Untouchables
There's Tony
Cricket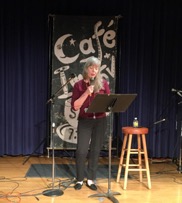 YouTube Princton, NJ at Café Improv
National Poetry Month - April 27th, 2019:
• Banshee of Broken
• Camellia Japonica, eve of your birthday
• Blue Heron, spiritual vessel
• Iris understanding Umbra
• As long as a heart is beating someone is always alive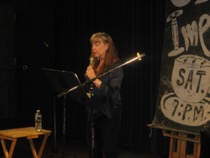 YouTube Beacon, NY / Hudson Valley Poets at the Howland Art Center
December 14, 2018:
• Villanelle: As long as a heart is beating someone is always alive
• Detached from the body of wind
• The way in which something is woven
• Loretta and Pauline
• Dark-eyed Juncos
• Moonlight Sonata
• Everyone has their own hallelujah
• The Handheld Mirror of the Mind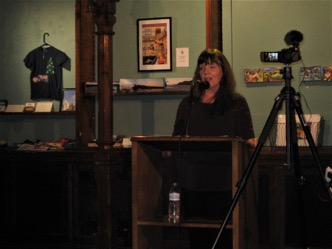 YouTube Princton, NJ at Café Improv
March 25th, 2017:
• Choruses of Crickets Sing Me
• Listening
• Vivaldi's violins
• Dark-eyed Juncos
• Pennsylvania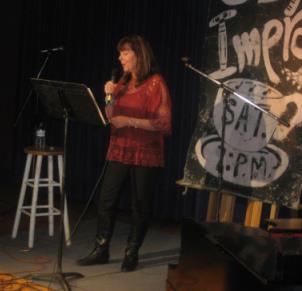 YouTube Princton, NJ at Café Improv
January 24,2015:
• Modern Day Flossie
• Delaware River
• Detached from the body of wind
• The Singing Butler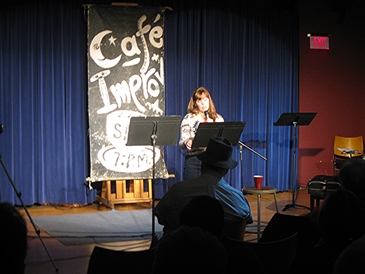 YouTube Princton, NJ at Café Improv on the 16th Anniversary of my father's death
April 27, 2013:
• Machines, Machines, Monstrous Machines
• Daisy
• Winds of Injustice
• My Lover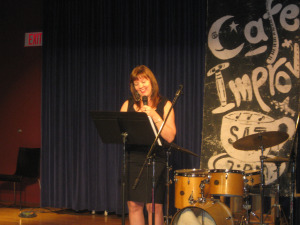 YouTubeThe Tom and Doug Show
Three Poems: Flame, Perspective, & Zone out
Read by Thomas Florek

Video Point Pleasant, NJ at Crushed Beneath Poetry on September 7, 2017
A villanelle - As long as a heart is beating someone is always alive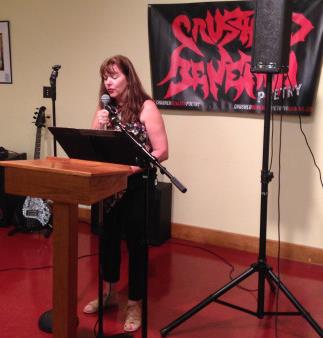 YouTube Pen and Pencil Club on March 20, 2016
from Night Sweat
• Faces of the Moon over Philadelphia
• Laundry
• Aluminum
• Under the Nights Forever Falling
• Two Stones
from Light's Battered Edge
• Absence
• Repeatedly waking to music
• Pennsylvania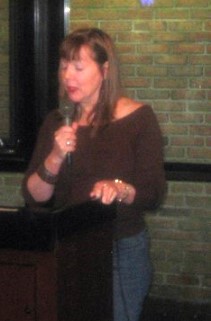 PhilGovTV
PHLgovTV Friday, March 26th, 2021 at 6:00-7:00 PM
One of the features at Art Access TV
The Office of Arts, Culture and the Creative Economy (OACCE)
in collaboration with PHLgovTV

WordPress link
Listed at Poets & Writers
HOME